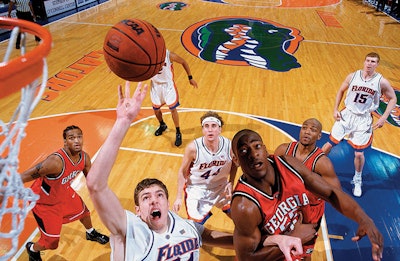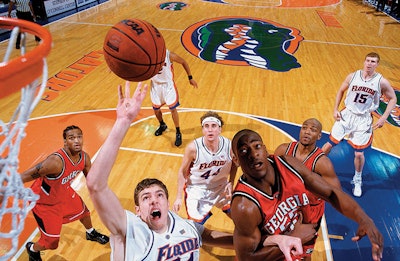 It's the final basketball game in the championship series. Tied at three games apiece, it all comes down to the final seconds of this game. You nervously inch up in your seat, rub your sweaty palms together and glance at the time remaining on the scoreboard. The coaches formulate their final strategies while the cheerleaders recite the school's fight song. Suddenly, the buzzer sounds,the players emerge from their huddles, the music stops and the crowd rises to its feet and fills the arena with a deafening roar. Your team tosses the ball into play, dribbles down court and attempts to set up a shot for your star three-point shooter. In the final seconds, the star player takes a shot. As the horn sounds, the ball hits the backboard, circles the rim and falls through the net as the jubilant crowd goes wild.
From professional games to local school tournaments, hard work goes into making great moments in sports, and not just from athletes,coaches and support staff. Behind the scenes are contractors who create a venue where these moments happen. A properly installed sports floor not only enables safe play, but creates the look and identity of the facility.
Industry overview
The growing sports floor industry reaches a wide variety of businesses and institutions. Installed in facilities such as schools, health clubs, dance studios and recreational buildings,sports floors are used for gym floors, racquetball courts, aerobics rooms and dance floors. As with residential applications, sports flooring is offered in both synthetic materials and natural wood, and the same cost/benefits also apply—synthetic materials generally offer a lower initial cost, but have a shorter life span. With proper maintenance, a wood sports floor can last almost a century.
The species of choice for wood sports floors is maple; other species such as beech can be used, but maple is preferred for its strength and light appearance. Maple also is chosen because it can withstand the movement in the resilient subfloors, whereas other species such as oak would splinter and break. In addition, maple's light appearance and tight grain allows game lines and other painted features to stand out and look crisp on the floor.
There are five grades of maple recognized by the Maple Flooring Manufacturers Association (MFMA): first grade, second and better grade, third and better grade, third grade and utility grade. Second and better grade is the most common selection for sports floors. Grading with maple is based on defects, such as knotholes and mineral streaks found in the boards—color isn't a factor. Also, grading affects appearance only, not performance.
Depending on the floor system, one of three types of flooring may be installed—random-length strip, finger jointed strip or parquet. Random length strip typically is 1 1/2 or 2 1/4 inches wide, with lengths between 9 inches and 8 feet. The most common thickness is 25/32inch. Finger-jointed strip consists of random-length strips that are joined together by the manufacturer to create a consistent board length. Parquet panels vary in width and have a minimum thickness of 5/16inch, and are uniform short lengths. They are installed using adhesive or mastic over continuous subfloor systems.
Floor systems
There are three basic types of sports floor systems: anchored, floating and anchored-resilient. Each type of floor system has advantages and disadvantages depending on the intended use of the floor and the type of floor to be installed. (See the "Comparison of Floor Systems" sidebar on this page.)
The anchored, or fixed, system usually is fastened to the subfloor using a clip and channel system and allows for little vertical or horizontal movement. This provides a stable and fast-playing floor but doesn't offer athletes much shock absorption. Because these floors are less likely to cup or buckle, they're suitable for installations that have unstable environmental conditions. With the development of more shock absorbent and stable systems, straight fixed floors are becoming less common.
Probably the most common system is the floating floor, which is built on either a straight sleeper, sleeper with plywood or double plywood system. These floors can be installed in just about every facility, and they tend to be the most affordable. However, because they aren't fixed to the subfloor, they can move, and may be more likely to cup or buckle if exposed to unacceptable moisture conditions. There also is the concern of perceived "dead spots"on basketball courts, especially with a straight sleeper system.
To address the problems inherent in both the fixed and floating systems,manufacturers created the anchored resilient system, which provides the stability of an anchored floor, but the shock absorption and versatility of a floating floor. The systems use varying thicknesses of pads to achieve desired levels of shock absorbency. With more than 35 varieties in the marketplace,these proprietary systems vary by manufacturer. These are the most technologically advanced floors, so they aren't a low-cost option.
Choosing a floor
When choosing which floor system to install in a facility, there are several factors to take into consideration:
Cost. Sports floors are a costly venture, and when working under the tight budget constraints of schools and other public facilities, the goal is to find the best floor for the money. Many facilities can't afford all the bells and whistles of the technologically advanced systems.
Function. It's important to determine what activities will be performed on floor and how often. Sports that are high-impact, such as aerobics or dance, require a high degree of shock absorption and vertical deflection. A basketball court needs to have adequate ball bounce. Multipurpose floors need to have a high rolling load to accommodate heavy equipment and furniture carried across the floor.
Appearance. The look of the floor is determined by the type of flooring used(strip, finger-jointed or parquet), the grade, paint color and type of finish.
Slab depression. In the case of a retrofit, the new floor system must fit the depression of the existing slab. Anew slab could be poured or extensive modifications could be made, but these are costly and time-consuming options.
Installation process
As is common with most major construction projects, there are likely to be several trades working at the same time trying to meet tight deadlines. School may be starting, or there maybe a game scheduled just a few weeks away, but the facility needs to be acclimated, with the HVAC up and running, and other trades need to be done with their work. The subfloor should be level—the standard is a 1/8-inch deviation every 10 feet. The wood also needs to acclimate to the facility's normal conditions, which can take as long as two weeks while sitting on the job site, however, this may not always be the case—it may only take only two days.
Once the job-site conditions are ready to go, installation begins with a 6mil vapor barrier under the selected subfloor system. Refer to the manufacturer's recommendations for specifics on proper installation of its system. Once the subfloor is in place, the wood should be installed following the proper nailing schedule and leaving expansion rows if necessary. The need for expansion rows varies by climate,region and even daily conditions. Some manufacturers' systems don't require internal expansion. Expansion around the perimeter also varies, but it's generally between 1 1/2 to 3 inches. A quality sanding job is crucial on a gym floor—any imperfections will be apparent with a high-gloss finish, bright lights and large windows to illuminate the floor. Two coats of sealer precede the application of the game lines and logos on the floor. The manufacturer's recommendations for drying time and compatibility should always be followed, as paint or finish will chip and peel if they aren't compatible.
Many architects and facility designers will have plans with the exact placement and colors of lines and logos. Always be sure to test colors and create samples for approval before starting the actual floor. Placement of game lines also is crucial. Sports floor contractors need to be familiar with all the state,college or other governing body's regulations for line placement. (See the "Get in Line" sidebar on this page.) When the paint is dry, the floor usually is finished with two coats of finish. Water-based finishes are typically used. Because they won't amber over time, they tend to leave the maple lighter and the paint colors brighter.
Maintenance
Because sports floors are subjected to extreme pounding and wear on a regular basis, maintenance is crucial. Not all facility managers are aware of the procedures for maintaining a wood floor. Owners should be given maintenance procedures in writing; some contractors go so far as to send them by certified mail. This helps protect the contractor when the floor cups a year later because the janitor used a power scrubber on the floor every night.
Depending on the level of use, as ports floor needs to be recoated once or twice a year. Daily maintenance includes a treated dust mop and a manufacturer's spot remover for marks and stains. However, always refer to the finish manufacturer for specifics on care. With proper maintenance, a sports floor can go five to 15 years without needing to be resanded.
Getting in the business
The best way for flooring contractors to break into the sports flooring business is from the bottom up, learning through hands-on experience. Many sports floor manufacturers also offer training on installation of their products. No matter the level of experience,there are intricacies of sports flooring that make each job different from the next, and experience prevents failed floors. There also are distinct differences between residential and sports floor installations. While the basic installation process may have similarities, sports floors are in a class of their own.
With sports floors, everything is on a larger scale. Installations can be 10,000 or 20,000 square feet, covering two or three gymnasiums. What may be a relatively minor problem and an easy fix on a 500-square-foot residential floor could be a major problem on a 10,000-square foot gym. Attention to detail on everything from moisture conditions to installation procedures is crucial.
Jobs on a larger scale also mean increased exposure to large sums of money. A sports floor contracting company needs to be financially stable and able to function between the bigger but less frequent payments. Larger jobs also mean increased manpower and payroll expenses, more equipment and tools,and increased insurance and bonding costs. Because there are a limited number of sports facilities in an area, sports floor contractors usually travel more extensively. When dealing with public facilities and tight budgets, the work tends to ebb and flow during the year. The typical busy season for sports contractors is between May and September,and it sometimes can be a feast-or famine business. Some seasoned professionals in the business say that the profit margins are lower on sports flooring jobs compared with residential floors.
The work environment also differs from traditional residential floor contracting. Decisions are made not just by a single homeowner, but oftentimes aboard, group of owners/managers or architects. The hours also vary; contractors aren't limited by the hours the homeowner will be gone, so long hours,nights and weekends tend to be the norm, especially when trying to complete a project on a tight deadline.
Before venturing into the world of sports floors, develop a game plan to see if the business matches the profile of you and your company. Not every contractor is suited to be in the sports flooring business, and not every business is suited to handle sports floor contracting. Sports flooring contractors and manufacturers can provide insight as to what it takes to be in the business. Though the work is challenging,there's no greater reward than taking an ordinary piece of concrete slab and turning it into a stage for great moments in sports.
Glossary of Terms
DIN 18032-German Institute of Normalization. A standard used by major sports flooring manufacturers to rate the durability and safety of sports surfaces.
Shock Absorption (Force Reduction)–The impact on a surface results in forces that are either absorbed by the floor or returned to the athlete. Sports floors are rated by the percentage of force reduction they provide compared with a hard surface. The DIN standard is a minimum of 53 percent of force absorbed by the floor and 47 percent returned to the athlete.
Vertical Deflection (Standard Deformation) is the vertical displacement of the sports surface during impact. This affects athletes in close proximity to each other. A concrete floor has zero vertical deflection, while a trampoline could have a vertical deflection of several inches. The DIN standard for vertical deflection is a minimum of 2.3 mm.
Area of Deflection (Width of Deformation Trough) is the width of the floor that moves during impact. DIN standard is a maximum of 15 percent of 2.3 mm (0.345 mm) within a 20-inch radius. No point can exceed 20 percent, and the average must be 15 percent or less.
Ball Bounce compares the percentage of rebound of a basketball on a maple surface with the rebound on a concrete surface. The DIN standard minimum is 90 percent.
Surface Friction (Coefficient of Friction) measures a floor's ability to control athletes sliding on the surface. The surface friction must be high enough to prevent uncontrolled sliding but low enough to allow sliding in certain situations such as a collision with another athlete.
Rolling Load refers to the amount of weight that will be carried across the floor by equipment and furniture. For example, if bleachers are going to be used on top of the floor, then blocks need to be installed underneath the subfloor so the shock-absorbing pads don't compress.
Source: MFMA