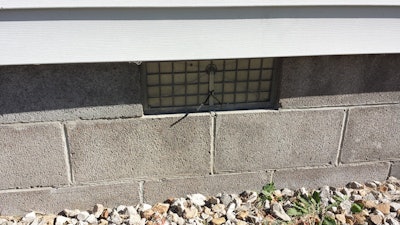 Hidey-ho, partners—Keith Long here with Thunderheart Flooring, based out of Greeley, Colo. The last few weeks, we've been looking into the finer points of how to design and produce a custom pinwheel parquet (read about how this job came about and Part 1 and Part 2 of installation).
The wood I brought out from Colorado was averaging 6.5 percent moisture content when set to acclimate, and the subfloor in Moberly, Mo., where the wood was to be installed, was averaging 9.5 percent MC (in late November).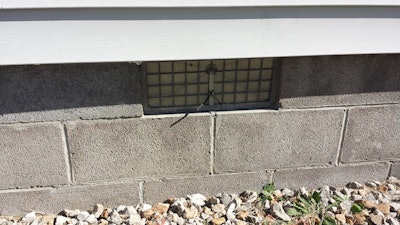 After inspecting the crawl space, I noticed there were portions of it that looked damp. I built a berm where there had been some negative drainage at the crawl space entry point and opened all six of the crawl space vents, one of which is pictured above. I then set a box fan on high in the crawl space to help dry things out. I set the thermostat for the forced air heating system at 70 degrees Fahrenheit and booked it on my calendar to come back on Jan. 4, which was six weeks later.
There were set to be three of us contractors seeing this project through to completion. Unfortunately, one fellow spoke of a sore back while on this project and drove himself home early. Although he's no longer a hardwood flooring contractor, I can still wish the best for him.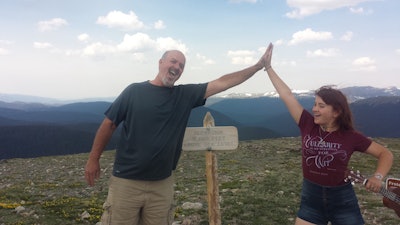 Chuck Burkhart, of Burkhart Wood Floors based out of the Mount Airy, N.C., area, has become a good friend. He's pictured here with my daughter on the continental divide in Colorado. Savana played her ukulele and serenaded us on the ascent as Chuck and I huffed and puffed to the top.
Chuck's first career was as an executive in the automotive and industrial battery industry. Once retired, he pursued his passion for woodworking and started his wood flooring company in 2013. He and I met for the first time in Dallas that year at an exposition.
Chuck's mind is sharp. He keeps his hands and feet moving. He's willing to put effort in to get results out. One of the first things he ever told me was that he wanted to get into custom flooring work—all I had to do was say when and where, and he would be there. He has a true passion for the industry, and his skill sets are becoming more refined each time I see him!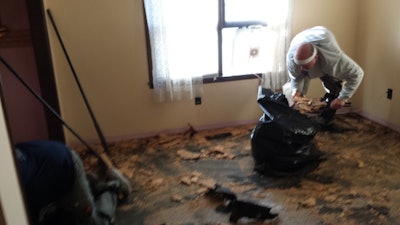 There was particleboard in some of the home, laid over ½ inch plywood. We pulled out a 6-foot-long steel bar and removed it. Fortunately, it was not glued down. I imagine there are some applications where particleboard is suitable, but I don't believe under hardwood flooring is one of them. I've been told fasteners don't have adequate holding power when put into particleboard.
The plywood below was averaging just under 9 percent MC while the hardwood flooring had come up to just over 8 percent average MC after having been there six weeks.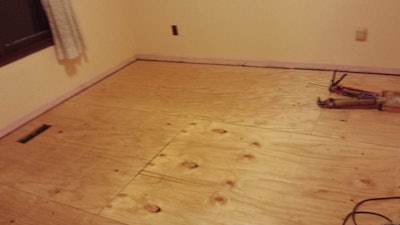 We overlaid new plywood on the existing ½-inch plywood that was the base layer. We glued and stapled it down, using 3/8 inch or ½ inch thick depending on the height of each room in relation to the others, to arrive at a home with hardwood flooring all on the same plane.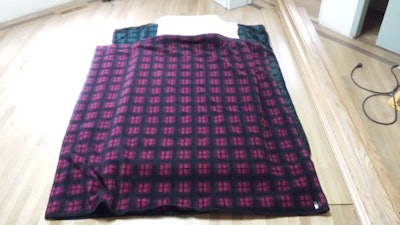 It interests me to talk with others, and hear your stories. There are so many different points of view in this world—we all come from different backgrounds, and have had different experiences. As a young man on a family ranch, the bedroll pictured above was where I laid my head for up to 7 months per year. I brought it to Moberly to sleep at nights while working on this project. I heard a song once that started:
"Pushin' horns weren't easy like the movies said it was/And I don't recall no dance hall girls or hotel rooms with rugs/You worked hot and tired and nasty, rode your pony's head too low/And there were all the nights you couldn't sleep, 'cause it was too damn cold…"
Based on my frame of reference from the way I was raised, being a hardwood flooring contractor is like a stroll through a shady park, even when pulling up particle board and sleeping on a bedroll.
Chuck is a trooper and slept on an air mattress at nights on this project. We would pop up in the morning and get after it. Since we met in the middle of the country in a state that neither of us calls home, we worked some pretty long days and did like Forrest Gump—when hungry, we ate. When tired, we slept. We had some dialed-in food at Black Market Barbeque in Moberly and put the hurtin' on Don's Family Style Buffet in nearby Huntsville, Mo., on several occasions.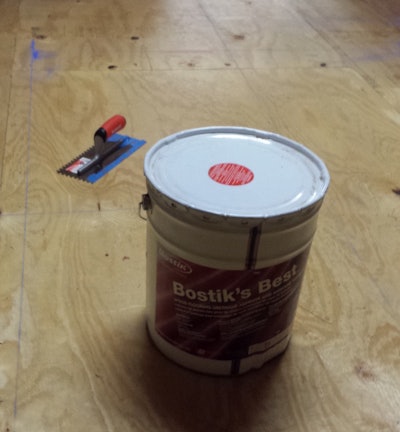 We laid out each parquet square over the plywood and centered it to the room. We snapped chalk lines around the perimeter and made a grid for where each square would go. This made it easy to know where to start and stop troweling the adhesive.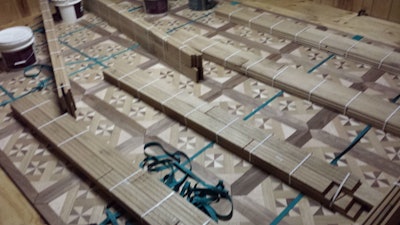 Once in place, we used straps and some weight on top to keep this area secure while the adhesive dried overnight. The next morning, we groove-routered the perimeter, installed spline and added a picture frame of 2¼-inch-wide walnut to the perimeter. This made everything, including the perimeter, the same thickness in walnut, which I felt would be more pleasing to the eye. It also left us a tongue on the newly installed walnut to marry up with the grooves of the 2-¼-inch rift-and-quarter clear-grade white oak used in the soldier-stack border.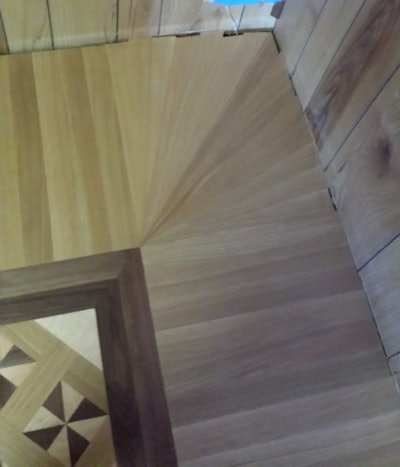 As we got close to the corners, if the soldier stack was not going to end on a full-width board, we would measure and know this several rows before the corner. That way, we could make adjustments by ripping 1/16 inch off the width of some of these soldier-stack boards, pass them through the router station for a fresh groove, and install them.
For example, if full boards were to leave us 3/16ths inch beyond the corner, we would rip 1/16th off three board, and work them in sporadically amongst full-width boards on the way to the corner.
Chuck had the opportunity to build two of these four fanned white oak corners, which was a new skill for him. He has a wonderful eye for detail!
Just because we installed a rico suave floor in this room does not exempt us from making other moves that are less than stellar. Once this room was installed, we set our sights on installing the kitchen next. So, the range that came with the home was moved from the kitchen onto this newly installed parquet. The seller was kind enough to have left a pan of grease on one of the racks, and I was not thorough in checking to make sure there was nothing in the oven compartment before tipping the stove back and moving it to the other room.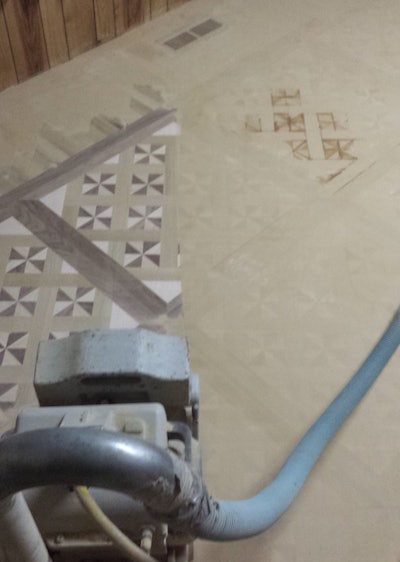 I didn't realize anything had spilled until we went to move it a couple days later before sanding, which had given the grease plenty of time to soak into the raw wood. The spot can be seen in the above picture, bleeding through the white oak filler. We kept putting sawdust on it and lightly going over it with 100-grit paper on the edger. Eventually the grease was drawn out, and that area became dry wood like the rest of the room.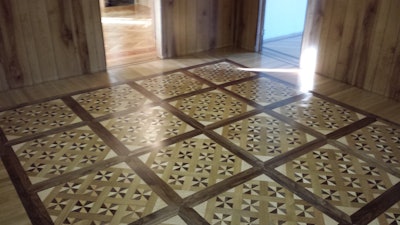 It was a joy working with Chuck Burkhart on this one. When I get into something tricky, he's the first one I call. We bounce ideas off one another on a regular basis.
I'd like to impart that any image can be broken down to its simplest forms and replicated. Here's hoping you feel motivated to try something tricky yourself—I know you can do it!