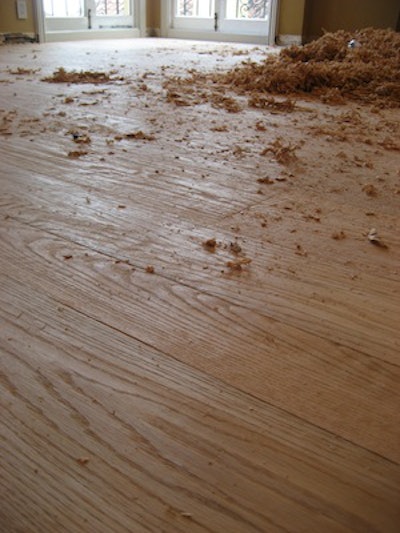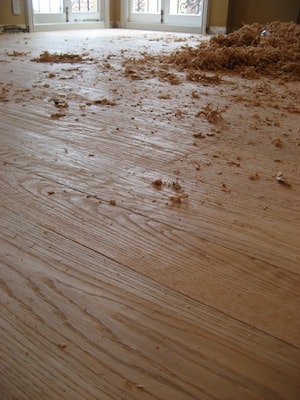 The true, budget-exploding, high-end, classy hand-scraped floors are timeless. Hand-scraped means different things to different people. What I will address here is how to use hook scrapers to texture the floor. That is it. The idea behind it is not to make it look old or time-worn. It is simply to texture the surface of the wood floor, like in the photo at right. Some people claim that scraping a floor makes it more interesting to the eye or complements certain styles. Some people hate it. There is a fine line between a beautifully scraped floor and floor that looks like an accident. We have all seen the videos online of guys butchering a floor with scrapers; this is not what we are trying to achieve here.
You can scrape your floor standing up before you install it, or on your knees in place. If I need to scrape a floor before installation, to save time, I will do it while it is acclimating on-site. In that case I will build a bench on-site. Setting up a temporary scraping bench requires a few things:
It needs to be long and wide enough to accommodate for your plank size.
It also helps if it is tilted a little.
It must be sturdy.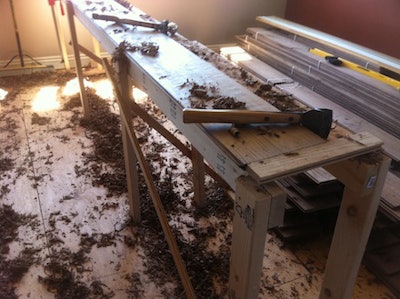 You will need to have hook scrapers; you should have a large number of scrapers and planes: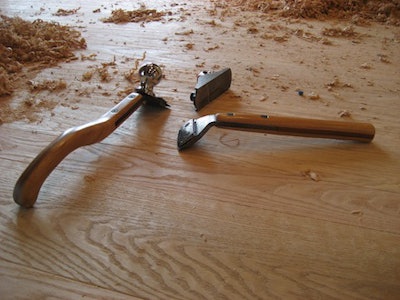 These professional-grade hook scrapers go for between $150 and $350 a scraper. You will need to learn how to dress them and you will need a lot of extra blades. Some guys prepare all their scrapers at the beginning of each day. Once they start scraping there is one person who is in charge of dressing those scrapers. If you do the scraping alone or with another person, it is always nice taking a break to dress the scrapers.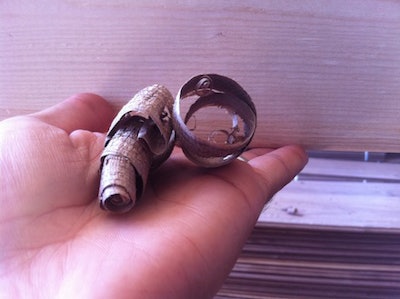 You need to scrape the entire face of the plank. It is hard to see where you missed a spot, so to help you can stain the floor dark or wipe the wood with a damp cloth before scraping. I prefer water because it softens the wood fibers a little so it is easier to scrape. I said "easier," not "easy"! After hand-scraping the floor, I run my buffer with two maroon pads on it just to knock off the rough spots. Then, I hand-sand the floor. I use a 120-150 grit paper depending on the wood species. And, yes, I did say "hand-sand".
I will write about finishing these floors in a separate post soon. One major thing to keep in mind: Scraping a floor is a truly hard, challenging task. There is no such thing as easy when you get a hand-scrape job. No such thing. Charge accordingly.
If anyone needs more information, please let me know. I had the honor and pleasure of learning from a lot of people in the trade throughout the years. And yes, I will pass on everything I know. And if I don't know, I know someone that knows. Never stop learning.