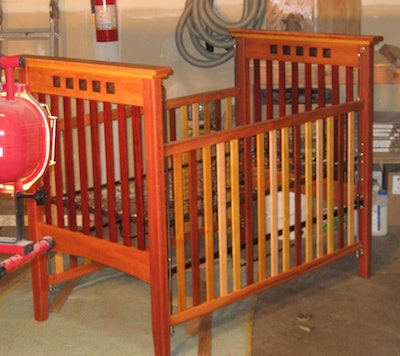 What would serve as a good finish for your hand-scraped floors? Here is one fact that affects everything: The floor is not flat. It has ridges and valleys. Generally speaking, you could use any finish successfully over those floors. But, the labor and techniques will vary greatly for each different product. For example, oil-modified urethanes need to be abraded between coats. It means that you will have to hand-buff the floor, because you cannot use a buffer. For waterborne finishes if you are used to rolling, you might need to use a different applicator to get an even finish application.
One good choice for these floors is tung oil. Tung oil has been a part of fine woodworking and finishing for centuries. There are different tung oil products designed for different applications. For example, when I finished the crib I made for my children ...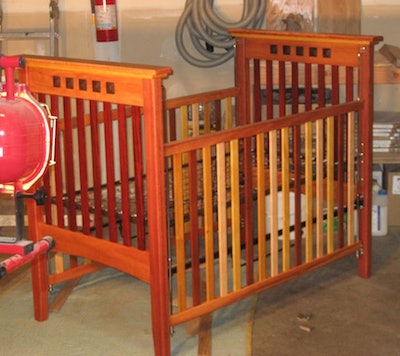 … I used a different product than the one I use on my floors. For the heirloom crib I used a 100% tung oil and used a citrus (yes, oranges and the like) extract as a carrier/solvent to thin it. The product I use on hand-scraped floors is specifically formulated for wood floor finishing.
Tung oil has the consistency of a solvent; it is not very thick, which helps it penetrate the wood. I prefer using tung oil because:
You don't have to abrade the floor between coats
It is easy to apply
It is easy to repair/touch up
I love the oil look showing off the grain.
Waterborne finishes don't need abrasion (within a certain time limit) as well, but they will raise the grain.
A hand-scraped floor has so many highs and lows, so a straight T-bar applicator will not do any good. For tung oil I recommend my favorite applicator: traditional lambswool. Here are a few photos from one of our jobs.
Here's the walnut floor after the final hand-sanding:
And the floor in the middle of applying the tung oil: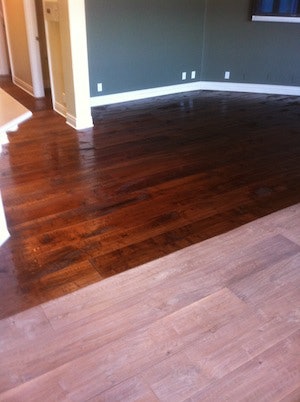 After the first coat, the tung oil looks blotchy: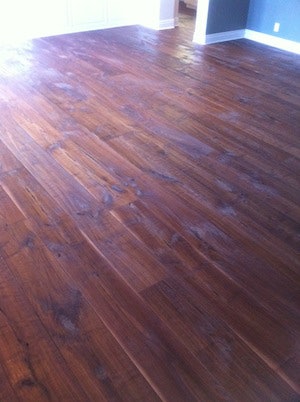 In this one, the left-hand part has been hand-buffed, but the right-hand side hasn't. You don't have to abrade between coats, but I think it gives the floor a slightly better appearance: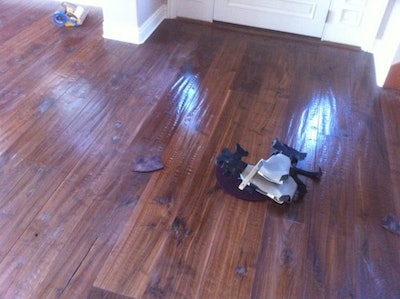 Here's the second coat while still wet: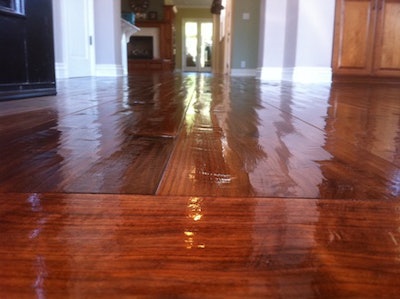 And here's the final appearance of the floor: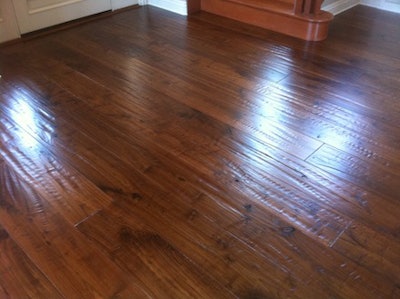 As always, I could write a book about this, but that is it for now. I'll be writing more about tung oil in my next post.
Feel free to ask me any questions or suggest any of your favorite techniques.