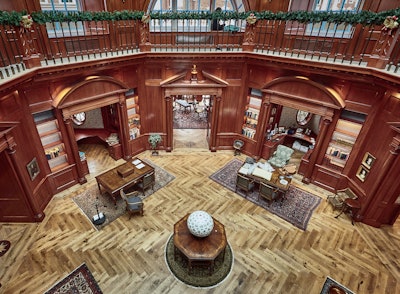 Photos Mark Mathews
The medallions, herringbone, chevron and borders on this floor inside a landmark Dallas location are impressive, but what makes this Woodwright Hardwood Floors project truly spectacular is the floor texture and finish, says Rick Farrell, architect and design consultant.
All 3,090 square feet of the ¾-inch-thick, 7-inch-wide European oak spec'd by the architect were double-hand-scraped by Woodwright craftsmen prior to installation. They water-popped the flooring, scraped across the grain, water-popped again and then scraped with the grain. The floor was then installed, screened and stained with a VOC-compliant stain and triple-oiled with Waterlox tung oil. The medallions—three 24 inches in diameter and one 60 inches in diameter—received the same treatment. The result is an elegant, "rolling" texture that looks and feels like a floor from 150 years ago, Farrell says, and perfectly complements the building's Jeffersonian architecture.
"Anybody can hand-scrape an oak floor and put Waterlox on it," Farrell says. "But when you go the extra mile to double-hand-scrape, it really marries the floor with a space of this caliber."
The room is one of many that Woodwright has done in recent years on the Old Parkland hospital complex—the hospital where President John F. Kennedy was taken after he was assassinated. The owner of the company purposely hired different architects and design firms to give each of the seven buildings its own personality, but Woodwright was brought back to do the wood floors each time. Although each floor is different, the common thread is the double-hand-scrape texture and the tung oil finish, giving all of the floors an Old World patina.