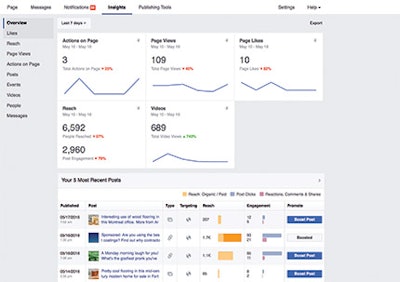 You're spending time marketing your company on Facebook, so you should know how successful (or unsuccessful) your posts are at driving traffic to your website. Figuring this out has never been easier, thanks to Facebook Insights.
The Insights tab is on your company's page beneath the Facebook search bar. The first view shows an overview of useful analytics, like Actions on Page, Reach, Recent Posts, etc. You can get a deeper look into these categories using the links on the left side of the screen, but you can learn quite a lot staying where you are. Here are three valuable pieces of information there:
1) People. The People section tells you who your audience is and how they access your Facebook page. The age and makeup of your audience should reflect your ideal customer. If it doesn't, make adjustments to the content you're posting and engage with other companies on Facebook who serve your target customer. You'll likely find a majority of your audience access Facebook via their mobile devices, so make sure you share links to mobile-friendly webpages.
2) Your 5 Most Recent Posts. How many people did your recent posts reach? How many clicked the post, left a reaction or comment, or shared the post? I use this information for quality control. It helps me know if my recent posts are succeeding or bombing, and quickly. Leave the post alone if the numbers are high; don't repeat that type of post if the numbers are low.
3) Pages to Watch. Consider this section free competitor intelligence. This list lets you compare your company's Facebook page to other similar companies. It tells you how many people like those pages, how many times they've posted and how many reactions, comments or shares they had. You can also add pages to this section you want to watch. Use this information to guide your own strategy—if a page is getting more engagement than you are, study the posting schedule and content. What can you emulate on your own page?
Facebook Insights can be a powerful tool for you company. These three pieces of information are the tip of the iceberg. Spend an afternoon figuring the ins and outs of the analytics and put the information to use.