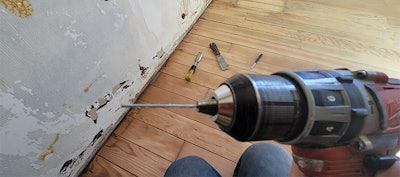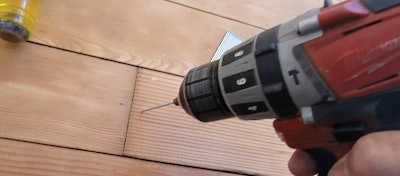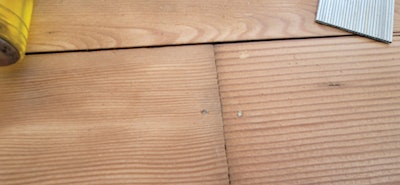 Pro contractor (and WFB author/blogger) Angelo DeSanto of Rancho Cucamonga, Calif.-based Dande West shared this trick:
I was taught a trick by my father back in the '90s when we were going to a customer's house to pick up a final check, and the customer complained of a loose molding. We had no air compressor, hose or nail gun. For lack of a single 16-gauge brad, it appeared we were going to be turned away from a final check. My father told me to get the cordless drill in the trunk, and in the tool bag were a few collated 1½-inch brads and a hammer. He removed a single brad and inserted it head-first into the drill chuck so the pointy end was exposed, then used the drill to "drill" a hole with the brad! When the chuck was almost touching the molding, he stopped and reversed the drill to release the brad and leave it stuck in the molding about a ½ inch or so. With the hammer, the rest of the brad was driven down, the molding was secured—and the customer had to pony up the final check! Recently I was working in an old home refinishing a Douglas fir floor, and only had my sanding equipment with me when I noticed some of the boards were moving when walked on. With a hammer and cordless drill, as well as a few brads I found in my cup holder, my dad's trick rescued me again.
See all of Angelo DeSanto's popular blog posts and magazine articles here.
---
RELATED: Wood Floor Trick of the Trade: Punching Nails with Ease
---

See a collection of previous job-site tips on our Pinterest Trick of the Trade board. Do you have a Trick of the Trade to share? Email it to WFB. If we use it, we'll send you a WFB T-shirt.