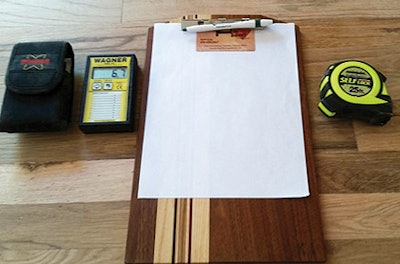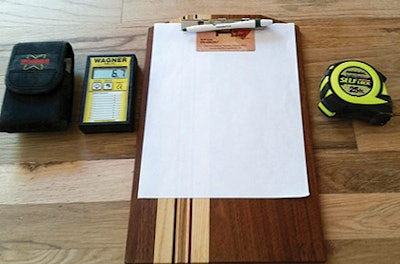 Landing jobs from an estimate is a skill all its own. Just because I'm proficient at installing, sanding, staining and finishing hardwood floors doesn't mean the client is automatically mine. As I've worked to develop those skills over the years, I've spent equal effort honing my estimate routine and the client/contractor relationship, keeping in mind some advice I once heard: "Telling isn't selling." Here's what I do that works for me, but it's by no means the only way to do it. I'm curious to hear how you've found success landing jobs, too.
1. I prescreen clients.
Since I receive many times more work inquiries than I can perform, I screen callers by asking how they heard about my company, where they live, how soon they would like to have the work performed, and if they are very price-sensitive.
I remember one call with a potential client when, after I asked her if she was price-sensitive, she replied, "Yeah, I'm extremely price-sensitive. I've got 700 square feet of oak that needs resurfacin'. One contractor said he'd do it for a buck a square foot. Then my neighbor said he would do it for 400 and a suitcase of beer. I'm just wantin' to know if you can get under his price…"
Needless to say, I didn't make the 45-minute commute to meet up with that gal.
---
RELATED: Pros Share Their Warning Signs That a Customer Will Be a Problem
---
2. I'm on time or I'll call ahead.
For those who do qualify over the phone, one of the first opportunities to build rapport is to show up on time to the estimate.
I was raised in a family that pulled up to appointments five–10 minutes early. This habit still serves me well today. It gives me a chance to clear my clipboard of everything but one blank sheet of paper and a couple of my business cards, line up a writing utensil, clip my moisture meter to one pocket and my tape measure to the other, grab my photo album and ring the doorbell on time. Before walking up to the door, I write down the name of the homeowner(s), the date of the estimate, their address, their phone number (and email address, if I have it) and who referred them.
If I'm going to be late, even if it's a minute or two, I'll contact the client. Why? Say the job starts at 7 a.m. By 7:01 a.m., the client might be checking the time of the estimate, confirming it was supposed to be at 7 a.m. At 7:02 a.m., they may be wondering if we had vehicle trouble, or maybe we forgot, or if there was some other sort of complicating factor. At 7:03 a.m., the thought may cross their mind that if we don't show up on time and don't call for something as simple as an estimate, how in the world are we going to be able to perform the entire scope of work on time? Once we finally arrive and ring the doorbell, it's possible I'm not landing the job no matter what.
3. I dress with intent.
I typically carry a clean pair of clothes in my work van to change into for estimates made after work on the way home, although it's possible your work clothes may give owner-operators a marketing edge. One of the benefits of being an owner-operator is that during the estimate, I can say, "I'm not just here to do the estimate. When you hire me, you get me. I'll be the one installing the floor." So, it's possible an owner-operator showing up in their work clothes for an evening estimate may add to their credibility.
That being said, if I've sweated about a gallon at work that day, then emptied my dust containment system outside and look like I could go to a street corner and hold up a cardboard sign with a note written in Sharpie that says, "ANYTHING HELPS—GOD BLESS," well, then I'll freshen up a bit and change into my clean clothes before going to an evening estimate.
---
RELATED: Why I Charge for Wood Floor Estimates
---
4. I zip my lips and listen.
After arriving on time at an estimate and making the acquaintance of the homeowner(s), I ask the question, "How can I be of service?" Then, I zip it. I close my lips and I listen.
When I first started fielding calls from potential clients about jobs, I tried to sell myself by talking when it probably would have benefited both parties if I had listened instead. These days, I listen so intently that, on a few occasions, I have begun to sweat. I even got myself into the habit of pinching my lips together between my thumb and index finger while on the phone with potential clients.
I have found that if the homeowner fires off questions one after another, it's most fruitful to wait until all questions have been asked before answering any of them. If I jump straight into the intricacies of what to do with cupped boards while homeowners are having questions come to mind about something else, it will be difficult for them to focus on what I am explaining.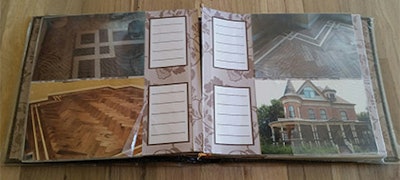 5. I hand them a portfolio of past jobs.
I don't begin measuring until all questions have been asked and addressed, and then I hand them my photo book. I say, "All right, I believe I understand the scope of work now. While I'm measuring the floor, here are some pictures of jobs I've completed."
Physically handing potential clients a book of photos does several things. One, it demonstrates I care greatly about the work I perform. Two, it shows I go above and beyond, since I went to the trouble to go track down a photo album, print off pictures and present them neatly. Three, it demonstrates my level of craftsmanship. Four, it begins the process of me giving and them receiving, just as will happen if they hire me. Five, it gives homeowners something to do while I measure.
I can also get a sense for whether or not I want to work with them based on how they interact with these photos. Many folks savor being able to look at all the design possibilities and say something like, "Well, if you can do all this, you can certainly handle doing what we need done!" Some fan through it rather quickly and say something along the lines of, "I hope this doesn't mean you're too expensive."
6. I'm painstakingly thorough.
I do everything within my power to be thorough during an estimate. If carpet is coming out, I pull a heat register and inspect to see if the subfloor is acceptable. If it's baseboard heat and there are no heat registers, I ask permission to pull the carpet and carpet pad back from a corner of the room to inspect the subfloor. Then I kick it back into place with a carpet kicker. If a staircase is being converted from carpet to hardwood and there are spindles (balusters), handrails and newel posts, I am extremely specific on my estimate about if these parts are going back or being replaced. If being replaced, it is spelled out who is responsible for that work.
I find being thorough up front during the estimating process about what will be done, when, and at what cost, then doing it, is the superhighway to happy clients and referrals.
---
RELATED: Thorough Estimates Can Prevent Job-Site Problems for Contractors
---
7. I give them a price right away.
Once all measurements are taken, I tell them what it will cost on the spot, right there in their home while we're still together. I work up a price that compensates my company so I can have business profit, pay all bills, keep all vehicles and tools maintained and repaired, and pay myself so that I can put food on my family's table, buy health insurance, have a reasonable lifestyle and prepare for retirement. Although I may not be the lowest bid they receive, most people are pleasantly surprised at the value I offer.
I write the quote on the back of one of my business cards and hand it to them. I also offer to email them the figures. This is another great way to build rapport. I make a promise that I will follow up with an email by, say, 7 p.m. that same day. Then I do it.
Keeping a promise is important. My company's habit of doing what it claims it will do, in the time frame it said it would do it, helps overcome the fact that my company's bid is generally not the lowest of all they receive.
---
RELATED: How a Floor Pro Increased Profits Using 'Olympic Pricing' Estimates
---
A word about competition
In talking with other contractors throughout the country, I have gotten the impression that many other locales have more companies all vying for the same business. In my region, sometimes we're the only one to throw our hat in the ring, which makes landing jobs fairly straightforward. For times when there is a bit more competition, it's my sincere hope that the specifics of what I do help my fellow contractors land more of their estimates, too.