Buying a logo can be an interesting—and sometimes daunting—experience. There's such a giant range of how much it costs and different levels of design work available. I've been designing logos professionally for about 10 years now, and I've run through the gamut of every design situation. The logo is the core of a brand's visuals, and it needs to be dynamic and function in a variety of different scenarios. So there's a lot of thought that goes into the logo design process. I'm going to break this process down for you so that when you are designing a new logo, you don't waste a lot of time and money. Ultimately, the goal is that you'll end up with a bunch of assets you're proud to share with the world—assets that will represent you when you're not there to represent yourself.
Know the different forms a logo can take
As shown above, a logo can take five forms: a combination mark (combining a word and symbol, like the Sprint or Adidas logos); the classic icon or symbol (think the Apple or Shell logos); a lettermark (General Electric, Hewlett-Packard); an emblem (i.e. the NFL, Starbucks or Harley-Davidson logos); and a word mark (Disney or Sony).
Generally speaking, a dynamic logo should have at least three styles that can be deployed. For instance, on the top of your website you may want to use a horizontal-style logo, whereas there will be instances on banners, vans or social media where you may need one that's stacked, side-by-side or square.
Understand the different files you'll need
There is a range of file formats a logo designer is going to provide. A format you're absolutely going to need is a Vector file. Vector is a file type that can be scaled up or down without losing any resolution. It's not comprised of pixels, so when you zoom in or out the logo stays proportional and smooth. This is how you can have a logo that can be put up on a billboard or the side of a building and have it still look crisp.
Vector file formats are generally going to be in Adobe Illustrator (.ai), PDF (.pdf), EPS (.eps) or Scalable Vector Graphics (.svg). When we are handing off our final batch of logo files to a client, they get one main file, and within that we have print copies and web copies.
Look to the style guide for cohesiveness
An important item that we include for our clients is a style guide. A style guide is essentially a rulebook for not only how your logo is to be used, but the overall tone of your brand so it can be handed off to a printer or third party and uphold the cohesiveness of your branding.
The colors for your brand identity are going to be associated in the swatch provided in the style guide. We can also write a paragraph or two about the identity, the branding and how we'd like the logo to be deployed. The style guide should also include font standards for your brand.
Along with the style guide, another useful thing we offer are photo-realistic mockups. We take the logo and actually mock it up on signs, apparel, vehicles or any way you plan to use it to give you a sense of how it will look and perform.
Have a set time frame
We need to have time frames on the design so that it doesn't drag out forever. In our proposals, we typically schedule our initial samples for within five to seven business days. Then, once we get the client's feedback, if there's a need for revisions, it's two to three days. Once the client approves the samples, they have final files in one or two business days.
---
RELATED: What to Know Before Getting a Hardwood Flooring Vehicle Wrap
---
Know what the logo's worth to your company
In determining what you should spend, you have to ask yourself: What's the overall value of this logo to you? What's the amount of worth it's going to bring to your business? If you can quantify that, you can put a designer's skill set into context. There really is no set rule for pricing. It's mainly based on experience, credentials and portfolio. The best way to not get ripped off on buying a logo is to know what you should be walking away with: the correct file formats, photo-realistic mockups and your style guide.
To me, every time we hand off a logo like that, I know we're arming that person with everything that we can for them to go out and move forward with their brand and business.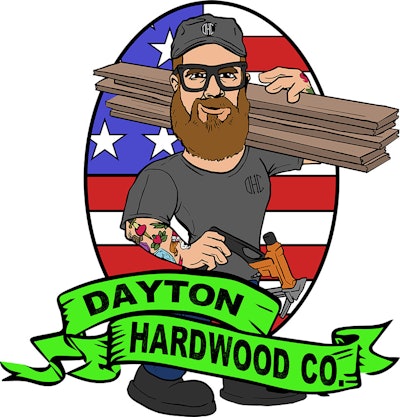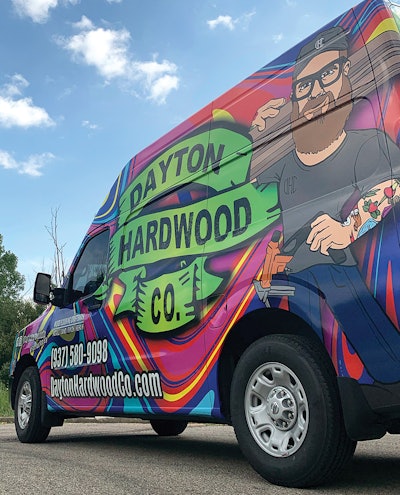 The Dayton Hardwood Co. logo we designed is an example of a really strong logo. This logo was fun because it was based around an illustration. This would be an example of something you'd maybe be paying a little bit more for because we illustrated a caricature of somebody (in this case, the company owner, Ian).
I think it was a wise choice for someone in his position to bring himself to the forefront of the brand identity through use of an illustration. As the owner of a small, local business, he is mainly trying to appeal to people within a certain radius where he lives. It's important that the people in the area are aware of who he is and that he establishes himself as an authority in his local community. The fun caricature-style illustration with Ian's big signature beard, in combination with the super-vibrant, eye-catching colors of his van and advertising materials draws a lot of attention and organic Google searches. It also gives off the feeling of it being a much more personal experience dealing with his company versus a big corporation, because the guy on the logo is the guy who is showing up and being responsible for the work being done. —M.O.