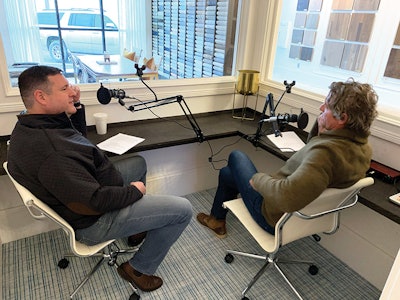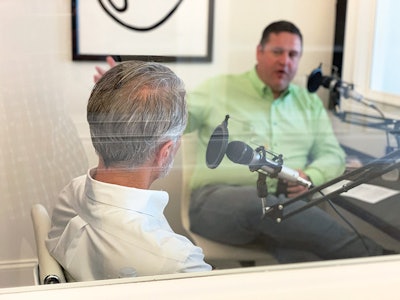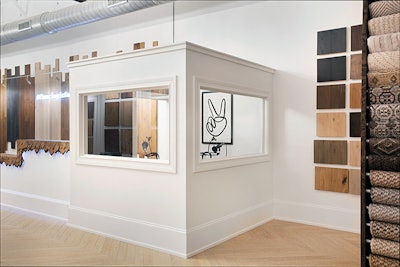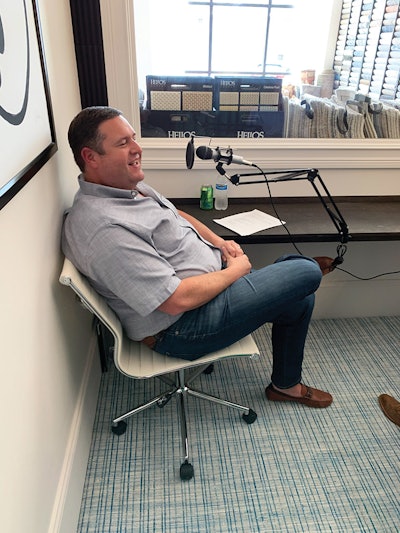 When we were designing our Nashville showroom a couple years ago, we didn't initially plan to host a podcast there. The showroom is located in a to-the-trade design center called the Nashville Design Collective. We realized during the designing process that we had some empty space. We initially thought we would make it a closet. But after thinking about it more, I realized: Here we are in a community, in a collective of other like-businesses. We all serve the same customer base and we're all trying to do the same thing, which is to design and build beautiful spaces. I thought it would be interesting to instead launch an industry-specific podcast that talked about the process and the people behind all these beautiful spaces. It turned out to be a great solution to what otherwise would have just been a closet, and the initiative ended up helping our business and new showroom branch out in a number of ways.
How we built it
As we started to research podcasts, we realized there were lots of programs with DIY content. There was a tremendous amount of space for design content that could provide A) a peer-to-peer resource and B) content for the end-user to understand the process. We realized we could also use the opportunity to promote our clients, promote ourselves and focus on relationships. So, we budgeted about $1,000 to purchase two microphones, an interface plug-in, headphones and computer software.
The space is very small, about 9 by 9 feet, so we also added some really cool carpet, acoustic wall panels and art. We had a local artisan build and install a wrap-around workspace for the host and guest. Once the space was built, we were physically ready. However, understanding production was the most time-consuming component, and developing the publishing/content schedule required the most time. From dream to reality it was approximately six months before we were up and running.
How we plan content
The biggest challenge we face running the podcast is creating content that is both entertaining and educational. There are countless topics available to us as wood flooring retailers, but finding the right subject can be tricky because we are sensitive to the vision of the podcast: to help our peers, their clients and anyone who is part of the luxury design community grow and better understand how these building trades work.
I host the podcast and develop the topics. I start broad and narrow it down to the nuance. I feel the more we can get in the details, the better the content becomes.
We have had a fabulous lineup of guests including architects, landscape architects, interior designers, homeowners who have just completed the process, and luxury builders. We have even had a psychiatric nurse practitioner to discuss managing stress and anxiety as it relates to our industry.
Once we develop a topic, we have a great understanding of who the expert guest should be, and we typically send an invite via email laying out the topics we'd like to speak about. The conversations are typically about 45 minutes. We have yet to have anyone turn down the opportunity.
How we handle the work
I've found it's important to be as specific as possible in the scope of a podcast. As we think through the content creation, we try to have a perspective of the listener so that we are creating useful, consumable information.
Our company's executive project manager, Davis Osburn, has a background in editing, so he is the producer of the show. He is fantastic. He coordinates scheduling and also does the edits. It takes him two to three hours of time per episode.
We have a full plate with our daily career needs, and finding time to do this well is difficult. It requires approximately five to seven hours of weekly time from me. We also have to devote marketing time, which is around five to 10 hours per week and includes creating a blog with photos, links and bios of our guests. It also requires one-and-a-half to three hours from the guest. Our episodes range from 45 minutes to an hour in length. We've been able to record regularly both in-person and remotely since last May using the COVID-19 protocols we've put in place.
How it benefits our company
The podcast has been really well-received since we began. We're doing something different that has been a boon for our industry. We have developed many new relationships as a result of the podcast, and some of our guests have turned into clients.
---
RELATED: Wood Floor Social Studies: Building Relationships Via Podcast
---
We feel it is ultimately going to help our industry by helping people understand expectations across the spectrum. And it helps us stand out that much more. Our guests have loved it, too. If they have not participated in a podcast previously, they tend to be nervous. But once we are having a conversation about their expertise, they settle in and do an excellent job.
Since launching the podcast, we have heard from many people across the globe who discovered the podcast in one way or another and give us great feedback. Many of these folks also request to join us as a guest to offer their story and perspective.
On a personal level, I am naturally curious, and I love that I am increasing my understanding of our industry. I also love the connection I develop with our guests that comes with an intentional conversation about what they do. If that wasn't enough of a reason to start one, here's another: It's really fun!
---
RELATED: Retail Wisdom: What Successful Stores Are Doing to Stand Out
---